Analysts Turn Bullish On PlantX, Calling Stock "Unjustifiably Cheap" in Report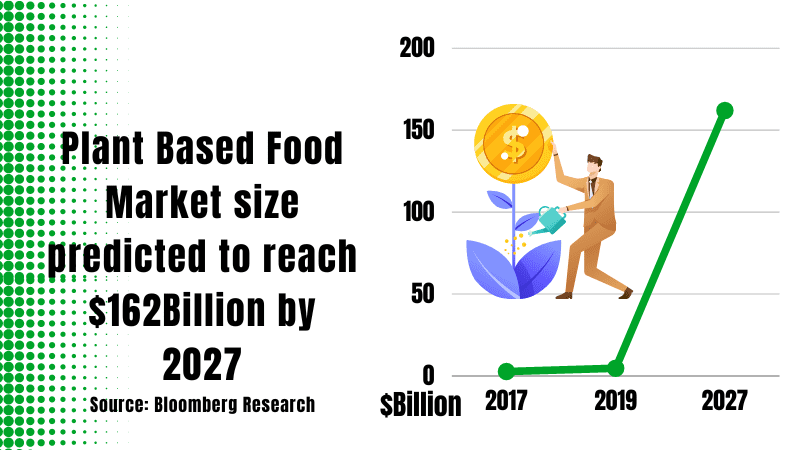 PlantX Life Inc. (CSE:VEGA) (Frankfurt:WNT1) (OTC PINK:PLTXF) received a major upgrade from analysts who called the stock substantially undervalued. 
Now, a new price target of CA$0.89 has been set for 7/30/2023 which is 8 times higher than the current share price of CA$0.08
This article discusses key industry trends and drivers for the plant based food industry
The story of PlantX can be seen as a major victory for ESG and activist investors. This is particularly so due to the recent substantial upgrade the stock received from a credible investment fund. The new price target that was set for 7/30/2023 is CA$0.89 which is nearly ten times as high as the current share price of CA$0.08. (The report was first mentioned here on Techbullion)
[Download The PlantX Analyst Report Here ]
Luigi Wewege, an offshore expert who runs an international bank already expressed a bullish sentiment on the overall plant based industry – which preceded this report. Today, following this report, Wewege said: "What I make of this report, is that investors may have mistakenly looked at one single "veggie meat" company with revenue of around $2 Million, which produces a tiny product range of veggie burgers: perhaps they thought that represented the entire industry? But the analysts who did the research clearly saw that PlantX has 5000+ products with substantial growth in search volume – and $20 Million in revenue. They also understood that with the WEF and Black Rock backing plant-based food, that the trend might be closer to breakout than it was in 2022".
The plant based food industry as a whole:
Everly liberal publication loves talking about ESG investments for the sake of our planet. Well, the same goes for the nutrition crowd: apart from the increasingly popular intermittent fasting, keto, and paleo diets, another very different type of diet is gaining traction: the plant-based diet! In recent years, we've seen a growing interest in plant-based diets, and it's not just among vegans and vegetarians. Interestingly, a growing number of people are realizing the benefits of incorporating more plant-based foods into their diets.
The reasons vary from health benefits and environmental impact to animal welfare. The plant-based protein food and dairy market is expected to reach over $162 billion by 2030. A plant-based diet consists mostly of whole, minimally processed plant foods like seeds, nuts, legumes, whole grains, vegetables, and fruits. So what is driving this trend, and what does it mean for the future of food? Let's find out:
Plant Based Food: Key Market Drivers And Investment Opportunities
In this article, we'll explore the reasons behind the rise of plant-based food, the benefits of eating more plant-based meals, and some of the exciting new plant-based products and innovations that are changing the game. So, if you're ready to discover why plant-based food has become the next big thing, keep reading!
What's driving the Plant-Based Market?
Of the many key long term market drivers, four are particularly worth mentioning. This explains why the industry is expected to witness a near 30 fold increase between 2019 and 2027:
1. Need for better health and well-being.
2020 was arguably the year that the plant-based craze gained significant traction. The COVID-19 pandemic had a massive impact that sent an already buoyant market into overdrive. Many consumers are shifting to plant-based foods as their priorities shift to health and well-being. Plant-based diets are high in nutrition and can help with weight management and also promote better overall health.
Are there examples of brands that understood well how to capitalize on this trend? Indeed there are several: PlantX (PLTXF:OTC US) is a pioneer in this. It moved fast to market by setting up an online community and marketplace where consumers can purchase products from all the top brands in this space. They also opened up physical stores where customer education and sampling takes place.  McDonald's Corporation (MCD) launched the McPlant Burger at the end of 2021. These are good examples of how brands are championing veganism. There are so many plant-based options today. As a result, veganism has become even more appealing and accessible. The result? A greater appetite for plant-based foods.
2. Caring about animal welfare
Animal welfare or the ethics of eating meat have long been contentious issues. For example, each year, over 31 million ducks are slaughtered for their flesh. Conscious consumers know the negative effects of animal-based diets on the environment. They are also more aware of the positive effects of going vegan. In a 2022 survey by the ASPCA, 44% of respondents said they cut their animal product consumption. They attribute this to their farm animal welfare concerns.
3. Climate change
Consumers are shifting to a more plant-based diet due to climate awareness. Significant media coverage has contributed to this greater awareness. The coverage has demonstrated the impact of dairy and meat production on global warming. It has also highlighted the impact of greenhouse gas emissions. Many increasingly recognize the effects of factory-farmed meat. They also know the effects of their food production methods on our water, air, land, and communities. The Federation of American Societies for Experimental Biology's study also highlighted this. Producing plant-based meat alternatives emits ten times less greenhouse gas than meat-based products.
There is a growing demand for companies with a positive environmental impact and provision of sufficient protein content. Plant-based alternatives, such as nuts, soy, etc., can now taste like dairy and meat products while being sustainable. Some companies even use food byproducts to reduce plastic use. One such company is Jose Cuervo's sustainable drinking straws.
4. A shift in institutional investment and advocacy
Firstly hedge funds like BlackRock take large positions in ESG investments as well as in plant-based food companies. Secondly, powerful entities such as the WEF advocate a shift towards plant based food. Thirdly, many governments are no longer incentivizing livestock farming and are more supportive of organic plant based foods that can help preserve biodiversity.
Top plant based stocks investors should watch:
If you are an activist investor and care about the environment, here is something worth looking at. Many are excited about the industry because of health and the environment. Yet indeed some investors do see this as a once in a lifetime trend and are constantly discussing the best plant based stocks to invest in. Here are some that are quite innovative in their approach:
1. PlantX (PLTXF:OTC US)
Founded by Sean Dollinger, an industry veteran in niche-based online retail, this company represents most of the top brands in this industry. This is a good way to gain exposure to the sales performance of a broad base of plant based food brands. They also have physical stores and their own brands with a higher margin, so it really ticks many boxes for investors who see diverse exposure within an industry.
2. Eat Well Group (EWGFF: OTC US)
Founded by Marc Aneed, the genius of this company is that it provides the investor with exposure to both agricultural technology and consumer retail: it owns several brands in both the aforementioned related categories.
3. Oatly Group (OTLY:OTC US)
Oatly started in Sweden with a fairly simple concept which they then rolled out globally and in the North America. Today, Sweden and China have strong links (China acquired Volvo in Sweden) and Oatly is available in 11000 Tea shops across China. Even if you do not see the genius in their product – it sure can be seen in the distribution chain, spanning the worlds' top economies and populations.
4. Good Natured Products (GDNPF:OTC US)
Call it branding if you like – but it works: Good natured products provide a different way to play the whole fast but healthy food market. It produces packaging products for all types of fresh food – even carry out boxes and soup bowls. It spans Canada and the U.S, commanding a strong position in the supply chain.
Popular reasons people adopt plant-based food:
Fortunately not all the motivations result from war, mandates and shortages. There are also reasons why the most wealthy segment of the market, all the way to the poor, would consciously choose a plant based diet.
Plants are high in fiber.
Fiber can be found in all raw plant foods. Eating more of it gives you access to a slew of benefits such as an improved gut health. This allows you to absorb more nutrients from the food, supporting your immune system. In addition, this diet reduces inflammation. Fiber can help with bowel management by lowering cholesterol and stabilizing blood sugar levels. Fiber is also crucial for lowering your risk of colorectal cancer which is considered to be the third most common cancer type. A 2011 meta-analysis discovered highlighted the benefits of more fiber in your diet and showed that adding 10g of fiber to your diet reduces your risk of colon cancer by about 10%.
 Plant-based diets help you maintain optimum weight.
One effective way of significantly cutting down your cancer risk is to maintain a healthy weight. This is because being overweight causes inflammation.
Overweight people are also likely to develop pancreatic, colorectal, and uterine cancers. Eating mostly plants eliminates many foods that contribute to weight gain. Add some exercise, and you're on your way to losing weight.
Plant foods reduce inflammation.
Did you know that plant-based foods not only taste great but can also reduce inflammation in your body? The essential nutrients and antioxidants in plants work together to strengthen your immune system and neutralize toxins from viruses, bacteria, processed foods, and pollution. Plus, paying attention to your body's signals about which plant-based foods work for you can help you further reduce inflammation.
This is crucial because prolonged inflammation can lead to cell and tissue damage and is often linked to inflammatory diseases like arthritis. So why not protect yourself by incorporating more plant-based foods into your diet and removing some of those disease triggers?
It supports your immune system.
Plants contain nutrients that are not found in other foods. They contain vitamins, minerals, and antioxidants that keep your cells healthy and your body balanced. As per MD Anderson's specialist, plants provide the essential nutrients to fight infection. A plant-based diet boosts your immune system. Consequently, it protects you from germs and microorganisms. A healthy immune system can recognize and attack mutations in cells before they cause diseases like Cancer.
Final Thoughts
We assume Wewege may have been referring to Bloomberg turning on "Beyond Meat" when it called veggie meat a fad. If so – we concur, Beyond Meat is by no means an indication of the entire market. The performance of PlantX, by contrast, may be a better measurement of how the industry is doing. This is because PlantX has 5000+ products on its own website, as well as on Amazon and Walmart. Clearly Wewege is bullish on the industry – but the analysts who wrote the report, were bullish specifically on PlantX. Whatever the PlantX price target – investors ought to be cognizant of what the WEF, Chatham House and BlackRock says about ESG and plant based food investments.
Plant-based food is quickly becoming a major trend – it's a lifestyle that many people are embracing for its health benefits, environmental impact, and ethical considerations. With an increasing number of plant-based options available in grocery stores, restaurants, and even fast-food chains, it's easier than ever to make the switch to a plant-based diet. As more people recognize the benefits of plant-based eating, it's likely that the trend will continue to grow and become even more mainstream.