XMarket, Billed As Largest Vegan Food Hall In The Midwest, Opens In Uptown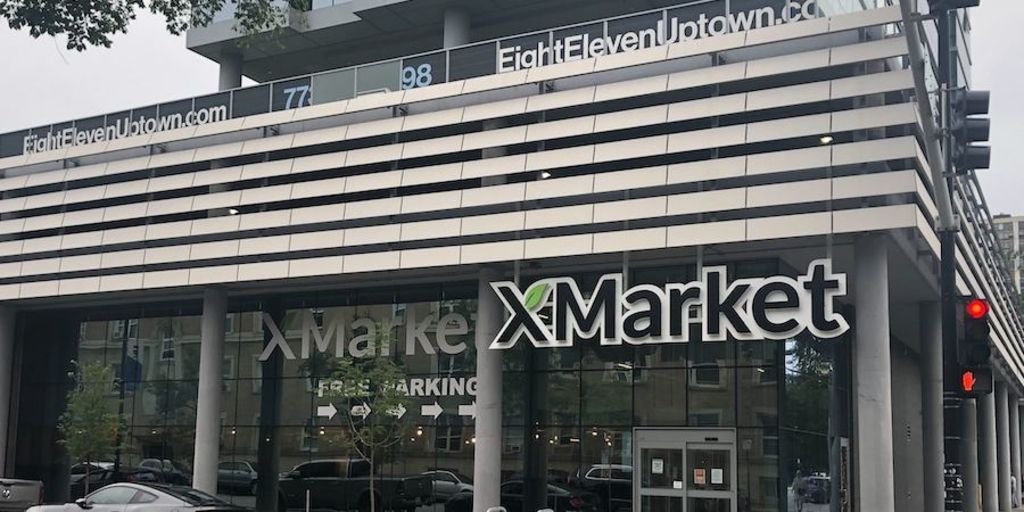 The 6,500-square-foot food court, which includes six restaurants, a bar and a grocery store, aims to make it easier for people to eat vegan.
UPTOWN — A food hall with entirely plant-based options is opening this week in Uptown.
After soft-launching last week, XMarket Food Hall, 804 W. Montrose Ave., is celebrating its grand opening Thursday. Billed as the largest vegan food hall in the Midwest, the 6,500-square-foot spot features a plant-based grocery store, a bar offering vegan wine and cheese pairings and six restaurants serving vegan dishes.
Here's the list of eateries:
Kale My Name: American fare
Bloom Plant-Based Kitchen's Bloom Sushi Counter
Kitchen 17: deep-dish pizza
Chicago Not Dogs: hot dogs and burgers
El Hongo Mágico Plant-Based Taqueria: Mexican food
2D Restaurant: mochi doughnuts and boba
PlantX, a plant-based lifestyle company, will operate the food court. The company acquired the Uptown property about two years ago and operated it as a vegan market for about six months before realizing it didn't need that much space for grocery products, said Alex Hoffman, PlantX head of marketing.
PlantX closed the grocery store and renovated it into the food hall, a model Hoffman hopes will enable more people to choose a plant-based diet.
"You always hear these barriers to entry like, 'Oh, it's just too difficult' or, 'I have to go find everything and it takes too long,'" she said. "The whole idea was to build a place and make the lifestyle more accessible."
From the start, Hoffman said PlantX focused on showcasing culinary talent. To fill the food hall, the company reached out to local chefs like Bernice Vargas Luna, who co-owns El Hongo Mágico with her husband.
The couple previously sold vegan tacos primarily at pop-up markets and festivals, so they seized the chance to establish a more permanent location. Now based at the food hall, El Hongo Mágico serves plant-based tamales, a cauliflower ceviche and its signature three-taco flight.
That flight features Vargas Luna's ode to tacos al pastor, brimming with marinated crimini mushrooms, and tacos stuffed with button mushrooms and portobellos. They're topped with a green salsa made from a recipe that has been in Vargas Luna's husband's family for 100 years — evidence that vegan cooking can stay true to cultural roots, Vargas Luna said.
"Really, if you look at our history in Mexico, a lot of it is plant-based," she said. "It's kind of easy to go back to some of the traditional recipes."
At Bloom Sushi Counter, tempeh subs for imitation crab in California rolls. Burdock root, hijiki and hearts of palm stuff the 312 Roll. Preserved melon, eggplant and tomato replace the typical fish in nigiri.
Brett Lander, Bloom director of operations, said he enjoys presenting options that eaters can't find in most restaurants. And he's excited for the chance to sell vegan food in a venue full of like-minded establishments.
"It's cool to have a niche of just being plant-based," he said.
You can learn more about XMarket on the PlantX website. Details about the food hall's grand opening events, which run through Sunday, are on Instagram. They include food samples, music, trivia, candle-making and a daily happy hour.
Watch our "On The Block" TV show on The U, CW26 and MeTV.
Listen to "It's All Good: A Block Club Chicago Podcast":