PlantX Adds Chicago's First Vegan Omakase by Bloom Plant-Based Kitchen to XMarket Vegan Food Hall Lineup, Bringing Intimate, Plant-Based Sushi Option to Chicago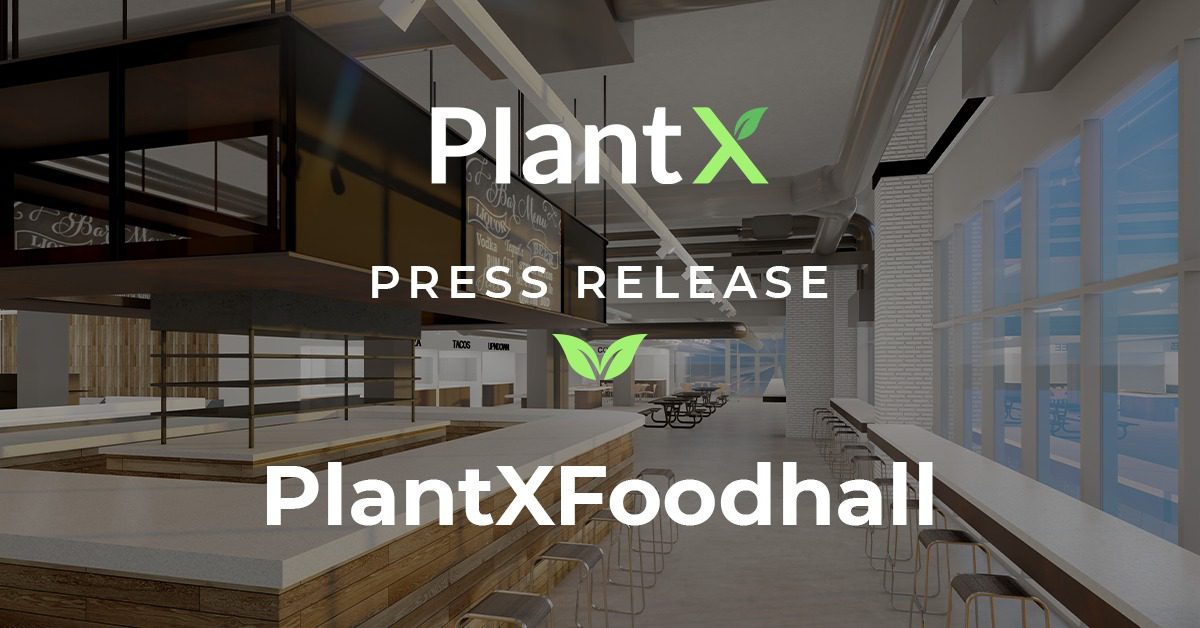 — Founders of Amaru, Chicago's Pan-Latin Eatery, to Bring Sushi Tasting Menu to PlantX's Food Hall —
VANCOUVER, British Columbia — September __, 2023 — PlantX Life Inc. (CSE: VEGA) (Frankfurt: WNT1) (OTCQB: PLTXF) ("PlantX" or the "Company"), the digital face of the plant-based community, operating a one-stop shop for plant-based products, today announced that Bloom Sushi, a plant-based sushi restaurant, will be added to the initial food lineup at the XMarket Vegan Food Hall as one of its six initial culinary concepts when the Midwest's largest food hall officially opens to the public later this month, with grand opening festivities beginning on October 5.
The latest offering from the creators of Amaru, a pan-Latin eatery, Bloom Sushi brings a traditional Japanese dining style in which the chef provides a meal tailored to the preferences of diners based on availability, budget, taste, and seasonality. Omakase is short for "omakase shimasu," which roughly means "I trust you, [chef]," and Omakase is roughly comparable to a "tasting menu" in Western cuisine. 
"This will truly be a unique experience for the PlantX Food Hall community," said PlantX CEO Lorne Rapkin. "Bloom Sushi will be an intimate event, with diners collaborating with an experienced chef to tailor a specialized dining experience, communicating about the foods they cannot or will not eat, exposing patrons to new experiences in a comfortable setting. Our initial food lineup of six restaurants provides an incredibly diverse set of options and experiences. Food lovers will continuously find new favorites, and try new delicacies, each time they visit, and the innovators at Bloom have ensured this with the Omakase concept."
"Our intention with Bloom has always been to bring flavorful, healthy, and affordable plant-based Pan-Latin food to the everyday family, with an emphasis on small plates where produce is the star of the show," commented," commented Rodolfo Cuadros, the owner and James Beard-nominated chef of Amaru and Bloom Plant Based Kitchen in Chicago's Wicker Park neighborhood, and more recently Don Bucio's Taqueria in Logan Square. "Now, we are going to expose even more people to how incredible plant-based can be, in an innovative and fun way. We're excited to be the first vegan omakase concept in Chicago at the XMarket Food Hall."
About PlantX Life
As the digital face of the plant-based community, PlantX's platform is a one-stop shop for plant-based products. With its fast-growing category verticals, PlantX offers customers across North America more than 5,000 plant-based products. PlantX also has other brands in the PlantX portfolio including a juice brand, a coffee company, a plant shop, and brick-and-mortar grocery stores. PlantX uses its digital platform to build a community of like-minded consumers and, most importantly, to provide education. PlantX's digital presence eliminates entry barriers for anyone interested in living a plant-based lifestyle and thriving in a longer, healthier, and happier life.
Connect with PlantX: Email | Website | Facebook | LinkedIn | Twitter | Instagram | YouTube | TikTok
About Bloom Plant Based Kitchen
As the creators of Amaru, the team behind Bloom Plant Based Kitchen has always prioritized self-care and environmental sustainability. But with a desire to do even more, Bloom Plant Based Kitchen was born. Bloom's latest venture, Bloom Sushi, is set to make waves in Chicago's largest vegan food hall. For the first time ever, they're bringing an exclusive vegan omakase counter to the Windy City. It's a culinary experience like no other, where plant-based ingredients take center stage in the art of sushi-making.
At Bloom, they understand that embracing a more plant-based diet not only benefits individual health but also has a profound impact on our planet. With the popularity of plant-based options on the rise, they're keenly aware of the stiff competition in the industry.Their mission is clear: Bloom is dedicated to delivering flavorful, healthy, and affordable plant-based cuisine that's accessible to all. They're here to prove that plant-based food can be a delicious and desirable choice for everyone, regardless of their dietary preferences. It's not just about being good to oneself; it's about being better to the planet and promoting healthier living for all
Connect with Bloom Omakase: Website | Facebook | Instagram 
Contact
Lorne Rapkin
Chief Executive Officer
(416) 419-1415
Forward-looking Information
This press release contains "forward-looking information" within the meaning of applicable securities laws. All statements contained herein that are not clearly historical in nature may constitute forward-looking information. In some cases, forward-looking information can be identified by words or phrases such as "may," "will," "expect," "likely", "should," "would," "plan," "anticipate," "intend," "potential," "proposed," "estimate," "believe" or the negative of these terms, or other similar words, expressions and grammatical variations thereof, or statements that certain events or conditions "may" or "will" happen, or by discussions of strategy. The forward-looking information contained herein includes, without limitation, statements regarding the availability of Future Farm products, PlantX promotional events and the business and strategic plans of the Company.
By its nature, forward-looking information is subject to inherent risks and uncertainties that may be general or specific and which give rise to the possibility that expectations, forecasts, predictions, projections or conclusions will not prove to be accurate, that assumptions may not be correct, and that objectives, strategic goals and priorities will not be achieved. A variety of factors, including known and unknown risks, many of which are beyond our control, could cause actual results to differ materially from the forward-looking information in this press release including, without limitation: receiving sufficient demand for the Offering; the Company's ability to comply with all applicable governmental regulations including all applicable food safety laws and regulations; impacts to the business and operations of the Company due to the COVID-19 epidemic; the conflict in eastern Europe; having a limited operating history; the ability of the Company to access capital to meet future financing needs; the Company's reliance on management and key personnel; competition; changes in consumer trends; foreign currency fluctuations; and general economic, market or business conditions.
Additional risk factors can also be found in the Company's continuous disclosure documents, which have been filed on SEDAR and can be accessed at www.sedar.com. Readers are cautioned to consider these and other factors, uncertainties and potential events carefully and not to put undue reliance on forward-looking information. The forward-looking information contained herein is made as of the date of this press release and is based on the beliefs, estimates, expectations and opinions of management on the date such forward-looking information is made. The Company undertakes no obligation to update or revise any forward-looking information, whether as a result of new information, estimates or opinions, future events or results or otherwise or to explain any material difference between subsequent actual events and such forward-looking information, except as required by applicable law.