PlantX Adds Delicious Deep Dish Pizza from Kitchen 17 to XMarket Vegan Food Hall Lineup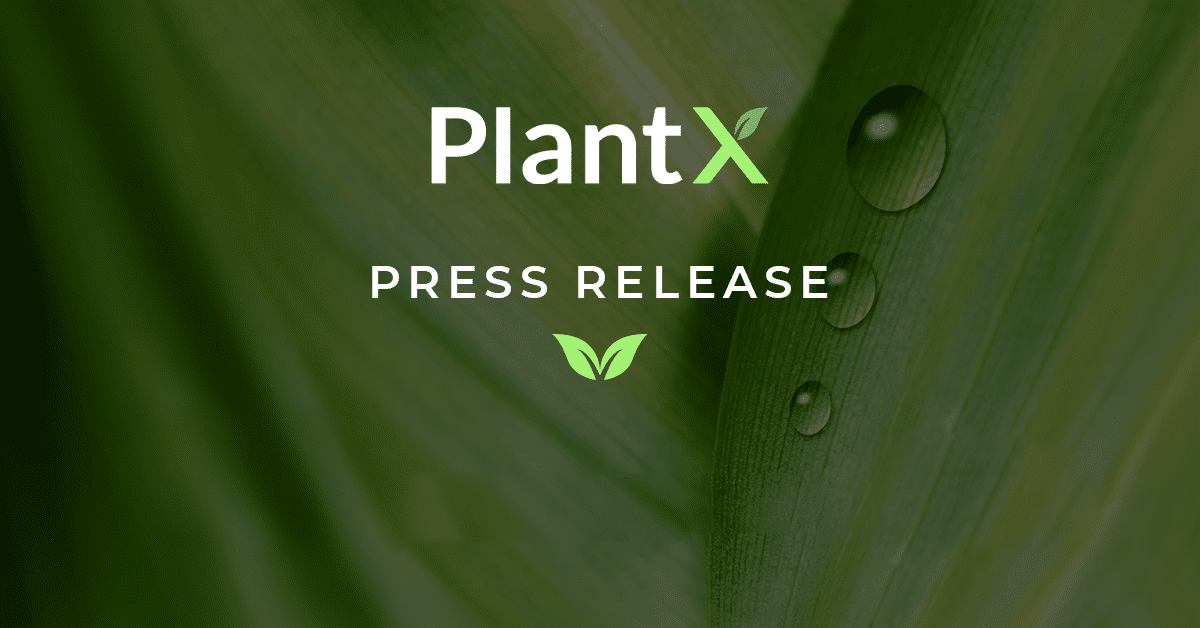 — 100% vegan pizza joint, specializing in from-scratch comfort food and featuring a line of Chicago-style deep dish pizzas, becomes latest addition to initial food hall roster —
VANCOUVER, British Columbia — September 12, 2023 — PlantX Life Inc. (CSE: VEGA) (Frankfurt: WNT1) (OTCQB: PLTXF) ("PlantX" or the "Company"), the digital face of the plant-based community, operating a one-stop shop for plant-based products, today announced that Kitchen 17, a 100% vegan restaurant that specializes in made-from-scratch comfort food, will be added to the initial food lineup at the XMarket Vegan Food Hall as one of its six initial culinary concepts when the Midwest's largest food hall officially opens to the public on September 14.
Kitchen 17 is a fully vegan Chicago restaurant specializing in comfort food with house-made meats, cheeses, desserts and a full bar. Kitchen 17 has built a loyal customer base, largely due to the success of its most popular dish, its 100% vegan deep dish pizza, which is now frozen and shipped nationwide. 
"No Food Hall would be complete without pizza, and Kitchen 17'sis the perfect choice, especially in Chicago, the home of deep dish pizza," said PlantX CEO Lorne Rapkin. "Patrons will visit the PlantX Food Hall, and Kitchen 17, for deep dish pizza if they are vegans or not. It's that delicious. And we are certain that Kitchen 17 will be a significant draw to our innovative and diverse dining experience." 
The vegan deep dish stalwart will join the food hall with their limited-menu concept "Station 17-B: A Kitchen 17 Satellite" offering pan-style pizza by the slice as well as personal sized versions of their iconic deep dish pizzas, seitan wings, and a wide range of house-made desserts.
"Our initial lineup of six unique and diverse restaurants provides something for everyone, with any preference, at any age, from vegetarians to vegans to people who just love great food," added Rapkin.
"Our mission is to create great food without qualifications, that just happens to be 100% vegan," commented Kitchen 17 co-owner Jennie Plasterer. "We are excited to join up with XMarket Vegan food hall to send cool vegan food into orbit at Station 17-B, we can't wait to pay homage to our space overlords with some new food and old favorites fit for humans and extraterrestrials alike!
Kitchen 17's other co-owner Joe Mertz continued: "We are excited to launch Station 17-B at XMarket; they were one of the first vendors to carry our grocery products as we began expanding outside of Chicago. Our space station will be right at home with the exciting lineup of vendors PlantX has brought on-board to open this food hall!"
About PlantX Life
As the digital face of the plant-based community, PlantX's platform is a one-stop shop for plant-based products. With its fast-growing category verticals, PlantX offers customers across North America more than 5,000 plant-based products. PlantX also has other brands in the PlantX portfolio including a juice brand, a coffee company, a plant shop, and brick-and-mortar grocery stores. PlantX uses its digital platform to build a community of like-minded consumers and, most importantly, to provide education. PlantX's digital presence eliminates entry barriers for anyone interested in living a plant-based lifestyle and thriving in a longer, healthier, and happier life.
Connect with PlantX: Email | Website | Facebook | LinkedIn | Twitter | Instagram | YouTube | TikTok
About Kitchen 17 
Kitchen 17 is a fully vegan Chicago restaurant specializing in comfort food with house-made meats, cheeses, desserts and a full bar. The totally true tale of Kitchen 17 begins long ago with Sir Edwin Currentqueller, the royal woodchuck who concocted a fabulous array of vegan pizza recipes with which to dazzle his herbivorous woodland allies. Sir Edwin shared his recipes with a lucky human chef who spent years studying the script claw-etched onto sheaths of willow bark. In 2013, the disciples had deciphered enough to open the restaurant in its original location. In 2016, we moved to our former location on Broadway, where we defined ourselves around Sir Edwin's most popular recipe – our 100% Vegan Deep Dish Pizza. In 2020, we began freezing and shipping our pizzas across the country, expanding Sir Edwin's fanbase first to the surrounding states, and soon from coast to coast. In 2022, we moved to our Current home in Avondale, where for the first time in a while our staff, Sir Edwin, and many of our customers felt more comfortable being able to come together and share food, drinks, desserts, and ideas. The new location allows for larger community events, performances, and art installations.
Connect with Kitchen 17: Website | Facebook | Instagram 
Contact
Lorne Rapkin
Chief Executive Officer
(416) 419-1415
Forward-looking Information
This press release contains "forward-looking information" within the meaning of applicable securities laws. All statements contained herein that are not clearly historical in nature may constitute forward-looking information. In some cases, forward-looking information can be identified by words or phrases such as "may," "will," "expect," "likely", "should," "would," "plan," "anticipate," "intend," "potential," "proposed," "estimate," "believe" or the negative of these terms, or other similar words, expressions and grammatical variations thereof, or statements that certain events or conditions "may" or "will" happen, or by discussions of strategy. The forward-looking information contained herein includes, without limitation, statements regarding the availability of Future Farm products, PlantX promotional events and the business and strategic plans of the Company.
By its nature, forward-looking information is subject to inherent risks and uncertainties that may be general or specific and which give rise to the possibility that expectations, forecasts, predictions, projections or conclusions will not prove to be accurate, that assumptions may not be correct, and that objectives, strategic goals and priorities will not be achieved. A variety of factors, including known and unknown risks, many of which are beyond our control, could cause actual results to differ materially from the forward-looking information in this press release including, without limitation: receiving sufficient demand for the Offering; the Company's ability to comply with all applicable governmental regulations including all applicable food safety laws and regulations; impacts to the business and operations of the Company due to the COVID-19 epidemic; the conflict in eastern Europe; having a limited operating history; the ability of the Company to access capital to meet future financing needs; the Company's reliance on management and key personnel; competition; changes in consumer trends; foreign currency fluctuations; and general economic, market or business conditions.
Additional risk factors can also be found in the Company's continuous disclosure documents, which have been filed on SEDAR and can be accessed at www.sedar.com. Readers are cautioned to consider these and other factors, uncertainties and potential events carefully and not to put undue reliance on forward-looking information. The forward-looking information contained herein is made as of the date of this press release and is based on the beliefs, estimates, expectations and opinions of management on the date such forward-looking information is made. The Company undertakes no obligation to update or revise any forward-looking information, whether as a result of new information, estimates or opinions, future events or results or otherwise or to explain any material difference between subsequent actual events and such forward-looking information, except as required by applicable law.