PlantX Adds El Hongo Magico Taqueria to XMarket Vegan Food Hall and Reports Financial Results for Fiscal Q1 2024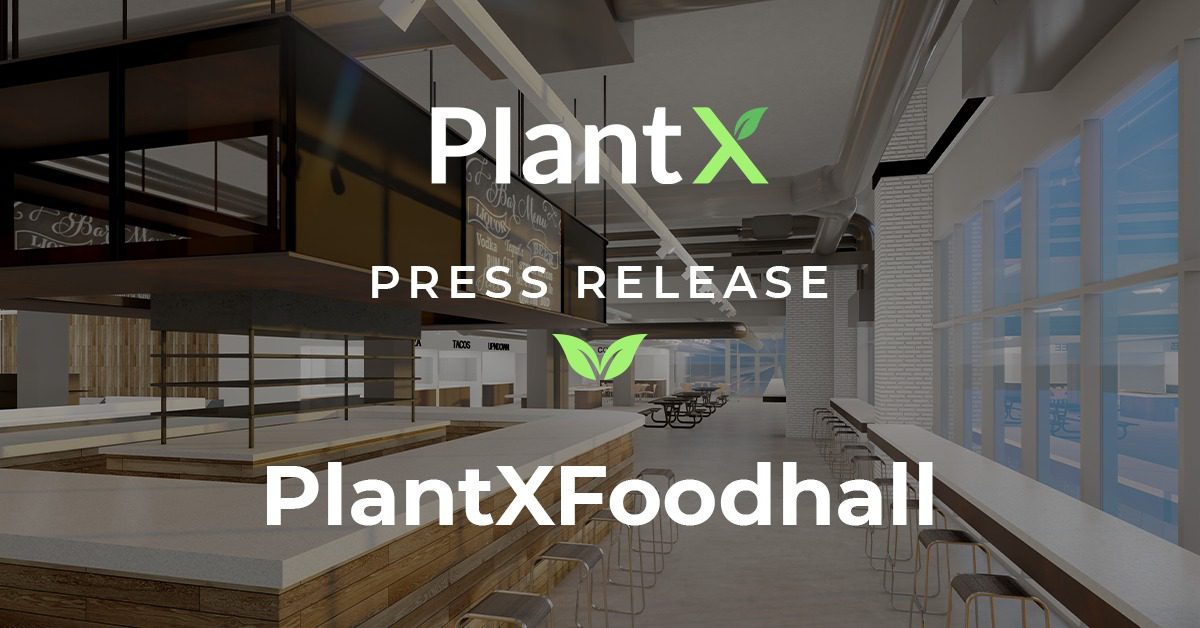 — Chicago's First Myco-Taqueria Diversifies XMarket Vegan Food Hall —
VANCOUVER, British Columbia — August __, 2023 — PlantX Life Inc. (CSE: VEGA) (Frankfurt: WNT1) (OTCQB: PLTXF) ("PlantX" or the "Company"), the digital face of the plant-based community, operating a one-stop shop for plant-based products, today announced that El Hongo Magico Taqueria, Chicago's first Myco-Taqueria, will be added to the initial food lineup at the XMarket Vegan Food Hall as one of its six initial culinary concepts when the Midwest's largest food hall officially opens to the public toward the end of September.
El Hongo Magico Plant-Based Taqueria, founded in 2022 by Carlos Luna and Bernice Vargas, blends traditional family recipes with plant-based ingredients. Carlos transitioned to a plant-based diet to address chronic colon disease, and Bernice embraced the lifestyle after being diagnosed with early stages of Type 2 Diabetes. Carlos and Bernice integrated offerings from vegan restaurants in Mexico City, and brought these ideas, including the use of mushrooms for protein, back to Chicago.
Lorne Rapkin, PlantX CEO, said, "Our XMarket Vegan Food Hall aims to create the most diverse, and most exciting plant-based culinary experience in Chicagoland, catering to the dietary requirements of vegetarians and the palates of non-vegetarians with cuisine that is delicious and healthy. El Hongo Magico Taqueria will join other plant-based offerings, ranging from hot dogs to traditional salad offerings, establishing a unique, one-stop-shop for all preferences. We love the healthy and delicious traditional Mexican dishes designed by Carlos and Bernice, and El Hongo Magico Taqueria has built a large and loyal cult following in Chicago."
"We transitioned to the plant-based lifestyle to address health concerns, and our results have validated our decision," commented Carlos Luna, co-Founder of El Hongo Magico Taqueria. "Our goal is to delight lovers of Mexican cuisine with traditional dishes with a plant-based twist, utilizing culinary mushrooms to complete traditional family recipes. Our presence in the XMarket Vegan Food Hall will bring our dishes to new customers and help us expand our following. We are excited to be part of this unique dining experience."
Co-developed and operated with the Macromia Group, a restaurant developer specializing in building high-end dining and retail locations from concept to creation, the 6,500 square foot XMarket Vegan Food Hall will be the largest vegan food hall in the Midwest. The space will seat 375 people and include six restaurants, a wine and beer bar, a coffee shop, and a bodega-style grocery store that includes a vegan cheesemonger. The food hall is located at 804 W. Montrose Ave. on the north side of Chicago.
Q1 2024 Financial Results
In addition to this remarkable culinary collaboration, PlantX reported its condensed interim consolidated financial results for fiscal Q1 2024 for the period ended June 30, 2023 ("Q1 2024"). During this period, the Company demonstrated consistent growth and operational efficiency, with revenue totaling $2,794,942 and a net loss of $1,722,824. The Company's strategic focus on profitability was reinforced by a 4% increase in gross profit margin compared to the same period in 2022.
Operating expenses notably decreased by $4,292,113 compared to the same period in 2022, driven by prudent cost-cutting measures and heightened operational effectiveness. Advertising, promotion, consulting, and administrative expenses were all streamlined, reflecting the Company's commitment to fostering a sustainable and thriving business.
The expansion of the XMarket Vegan Food Hall and the robust financial performance in Q1 2024 signal PlantX's dedication to elevating the plant-based lifestyle through culinary innovation and operational excellence.
Additional Information
The Company's complete condensed interim financial statements and management's discussion & analysis ("MD&A") for Q1 2024 are available on PlantX's website (www.plantx.com) and SEDAR (www.sedar.com).
Neither the CSE nor its Regulation Services Provider (as that term is defined in the policies of the CSE) accepts responsibility for the adequacy or accuracy of this release or has in any way approved or disapproved of the contents of this press release.
About PlantX Life
As the digital face of the plant-based community, PlantX's platform is a one-stop shop for plant-based products. With its fast-growing category verticals, the Company offers customers across North America more than 5,000 plant-based products. In addition to offering delivery service for meals and indoor plants, the Company currently has plans underway to expand its product lines to include a juice and coffee company. The Company uses its digital platform to build a community of like-minded consumers and, most importantly, to provide education. Its successful enterprise is being built and fortified on partnerships with the top nutritionists, chefs, and brands. The Company's digital presence works to eliminate the barriers to entry for anyone interested in living a plant-based lifestyle and thriving in a longer, healthier, and happier life.
Connect with PlantX: Email | Website | Facebook | LinkedIn | Twitter | Instagram | YouTube | TikTok
About El Hongo Mágico Plant-Based Taqueria 
El Hongo Magico Taqueria is an award-winning plant-based taqueria serving authentic Mexican flavors featuring culinary mushrooms highlighting their magic and versatility. Connect with El Hongo Magico Taqueria: Website | Facebook | Instagram  | TikTok
Contact
Lorne Rapkin
Chief Executive Officer
(416) 419-1415
Forward-looking Information
This press release contains "forward-looking information" within the meaning of applicable securities laws. All statements contained herein that are not clearly historical in nature may constitute forward-looking information. In some cases, forward-looking information can be identified by words or phrases such as "may," "will," "expect," "likely", "should," "would," "plan," "anticipate," "intend," "potential," "proposed," "estimate," "believe" or the negative of these terms, or other similar words, expressions and grammatical variations thereof, or statements that certain events or conditions "may" or "will" happen, or by discussions of strategy. The forward-looking information contained herein includes, without limitation, statements regarding the availability of Future Farm products, PlantX promotional events and the business and strategic plans of the Company.
By its nature, forward-looking information is subject to inherent risks and uncertainties that may be general or specific and which give rise to the possibility that expectations, forecasts, predictions, projections or conclusions will not prove to be accurate, that assumptions may not be correct, and that objectives, strategic goals and priorities will not be achieved. A variety of factors, including known and unknown risks, many of which are beyond our control, could cause actual results to differ materially from the forward-looking information in this press release including, without limitation: receiving sufficient demand for the Offering; the Company's ability to comply with all applicable governmental regulations including all applicable food safety laws and regulations; impacts to the business and operations of the Company due to the COVID-19 epidemic; the conflict in eastern Europe; having a limited operating history; the ability of the Company to access capital to meet future financing needs; the Company's reliance on management and key personnel; competition; changes in consumer trends; foreign currency fluctuations; and general economic, market or business conditions.
Additional risk factors can also be found in the Company's continuous disclosure documents, which have been filed on SEDAR and can be accessed at www.sedar.com. Readers are cautioned to consider these and other factors, uncertainties and potential events carefully and not to put undue reliance on forward-looking information. The forward-looking information contained herein is made as of the date of this press release and is based on the beliefs, estimates, expectations and opinions of management on the date such forward-looking information is made. The Company undertakes no obligation to update or revise any forward-looking information, whether as a result of new information, estimates or opinions, future events or results or otherwise or to explain any material difference between subsequent actual events and such forward-looking information, except as required by applicable law.