PlantX Adds Hand-Drawn 2d restaurant to XMarket Vegan Food Hall Lineup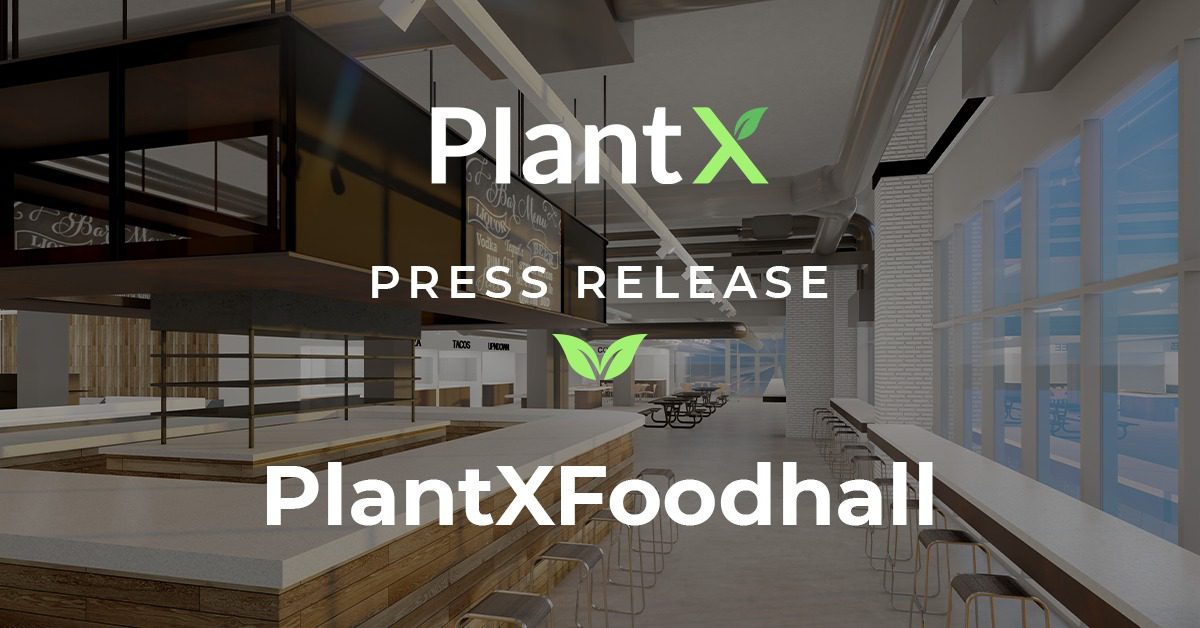 — First hand-drawn monochrome, 2-dimensional illusionary restaurant in U.S.A. becomes latest addition to initial food hall roster —
VANCOUVER, British Columbia — September 13, 2023 — PlantX Life Inc. (CSE: VEGA) (Frankfurt: WNT1) (OTCQB: PLTXF) ("PlantX" or the "Company"), the digital face of the plant-based community, operating a one-stop shop for plant-based products, today announced that 2d restaurant, an Asian eatery that transports people into their own comic universe using monochrome illusions, will be added to the initial food lineup at the XMarket Vegan Food Hall as one of its six initial culinary concepts when the Midwest's largest vegan food hall officially opens at the end of September.
Located in Chicago's Uptown neighborhood, 2d restaurant is a café that transports guests to a two-dimensional city of Japan. The entire dining room was hand-drawn giving guests the impression of walking into a comic book providing a unique and memorable dining experience. The innovative restaurant concept was developed by wife and husband duo Vanessa Thanh Vu  and Kevin Yu. The food and beverage menu is equally inspirational. Award-winning chef Kevin Yu serves a variety of trendy gourmet Asian treats from Japanese mochi donuts, Vietnamese coffee, Taiwanese fried chicken sandwiches, Taiwanese boba tea and handcrafted beverages. 
"With the addition of 2d restaurant and its comic book-inspired aesthetic, our vegan food hall is truly going to stand out," said PlantX CEO Lorne Rapkin. "Designed with the same hand-drawn black and white artwork that has made the Lake View restaurant a hit with foodies and the Instagram crowd, our food hall guests will enjoy heavenly 2d restaurant specialties like Japanese mochi donuts, Vietnamese coffee, Taiwanese fried chicken sandwiches, and more in a memorable setting. Come to our grand opening on October 5 and see for yourself!"
Added 2d restaurant founder Kevin Yu, "We're thrilled to announce our exciting collaboration with PlantX, perfectly aligned with 2d restaurant's mission of bringing joy to our community. This partnership allows us to introduce an extraordinary series of plant-based sweets and beverages that not only taste incredible but also contribute to a more sustainable planet. As a delicious twist, we're proud to unveil our first plant-based mochi donut, adding a new dimension to our commitment to both great taste and environmental responsibility."."
Opened in February 2022, 2d restaurant is located at 3155 N. Halsted Street in the heart of Chicago's Lake View East neighborhood.
About PlantX Life
As the digital face of the plant-based community, PlantX's platform is a one-stop shop for plant-based products. With its fast-growing category verticals, PlantX offers customers across North America more than 5,000 plant-based products. PlantX also has other brands in the PlantX portfolio including a juice brand, a coffee company, a plant shop, and brick-and-mortar grocery stores. PlantX uses its digital platform to build a community of like-minded consumers and, most importantly, to provide education. PlantX's digital presence eliminates entry barriers for anyone interested in living a plant-based lifestyle and thriving in a longer, healthier, and happier life.
Connect with PlantX: Email | Website | Facebook | LinkedIn | Twitter | Instagram | YouTube | TikTok
About 2d restaurant 
2d restaurant, the first hand-drawn two-dimensional eatery in the U.S. created by award-winning designer Vanessa Thanh Vu and her husband chef Kevin Yu. The restaurant offers a unique dining experience reminiscent of a comic book with a menu features a diverse range of Asian delicacies, from Taiwanese fried chicken sandwiches to Japanese mochi donuts. Recognized as Best of Chicago 2022 and a top 20 donut shop, 2d restaurant has garnered praise from ABC, NBC, Eater Chicago, and more, solidifying its status as a must-visit hotspot in the windy city.
Connect with 2d restaurant: Website | Facebook | Instagram | Tik Tok
Contact
Lorne Rapkin
Chief Executive Officer
(416) 419-1415
Forward-looking Information
This press release contains "forward-looking information" within the meaning of applicable securities laws. All statements contained herein that are not clearly historical in nature may constitute forward-looking information. In some cases, forward-looking information can be identified by words or phrases such as "may," "will," "expect," "likely", "should," "would," "plan," "anticipate," "intend," "potential," "proposed," "estimate," "believe" or the negative of these terms, or other similar words, expressions and grammatical variations thereof, or statements that certain events or conditions "may" or "will" happen, or by discussions of strategy. The forward-looking information contained herein includes, without limitation, statements regarding the availability of Future Farm products, PlantX promotional events and the business and strategic plans of the Company.
By its nature, forward-looking information is subject to inherent risks and uncertainties that may be general or specific and which give rise to the possibility that expectations, forecasts, predictions, projections or conclusions will not prove to be accurate, that assumptions may not be correct, and that objectives, strategic goals and priorities will not be achieved. A variety of factors, including known and unknown risks, many of which are beyond our control, could cause actual results to differ materially from the forward-looking information in this press release including, without limitation: receiving sufficient demand for the Offering; the Company's ability to comply with all applicable governmental regulations including all applicable food safety laws and regulations; impacts to the business and operations of the Company due to the COVID-19 epidemic; the conflict in eastern Europe; having a limited operating history; the ability of the Company to access capital to meet future financing needs; the Company's reliance on management and key personnel; competition; changes in consumer trends; foreign currency fluctuations; and general economic, market or business conditions.
Additional risk factors can also be found in the Company's continuous disclosure documents, which have been filed on SEDAR and can be accessed at www.sedar.com. Readers are cautioned to consider these and other factors, uncertainties and potential events carefully and not to put undue reliance on forward-looking information. The forward-looking information contained herein is made as of the date of this press release and is based on the beliefs, estimates, expectations and opinions of management on the date such forward-looking information is made. The Company undertakes no obligation to update or revise any forward-looking information, whether as a result of new information, estimates or opinions, future events or results or otherwise or to explain any material difference between subsequent actual events and such forward-looking information, except as required by applicable law.