PlantX Launches Ecommerce Partnership with Good Planet Foods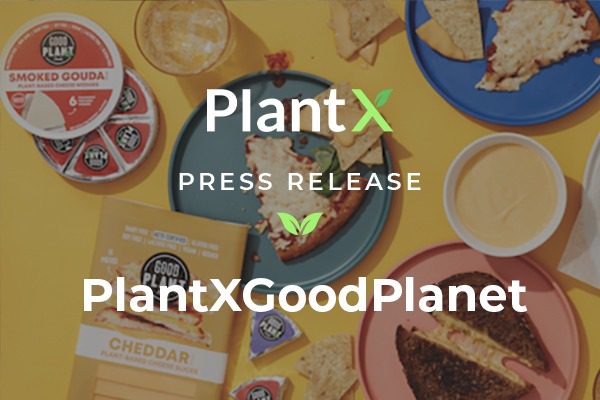 VANCOUVER, British Columbia — April 11, 2023 — PlantX Life Inc. (CSE: VEGA) (OTC: PLTXD) (FSE: WNT1) ("PlantX" or the "Company"), the digital face of the plant-based community, operating a one-stop shop for plant-based products, today announced that it has added Good PLANeT Foods Inc. ("Good PLANeT") to its growing roster of brands adopting its e-commerce fulfillment platform solution. The addition of Good PLANeT and its premium plant-based cheese products further leverages PlantX's warehousing and logistics capabilities.
GOOD PLANeT Foods, now available in over 1,200+ retail locations nationwide, offers a variety of plant-based cheeses, which include slices, shreds, snacking wedges, smoked wheels, and snack packs that are made up of clean ingredients, such as coconut oil and plant starches that create a superior taste, texture, and melt. Free from the eight primary allergens including dairy, nuts, soy, eggs, and wheat, Good Planet Foods products are gluten-free, certified vegan, kosher, Keto Certified, and Non-GMO Project verified.
"We've found the perfect partner to help us get cheesier," said PlantX CEO, Lorne Rapkin. "With one of the best tasting selections of cheeses anywhere, including Wisconsin, Good PLANeT has built a loyal following which should increase awareness for PlantX. Our partnership allows Good PLANeT to focus on what they do best – innovation and new product creation – while we handle getting the products into the hands of even more customers."
Good Planet Founder & CEO ­­­­David Israel said, "Our goal is to bring our customers the true experience and joy of cheese, with plant-based offerings that are GOOD for YOU and GOOD for the PLANeT! We saw how PlantX has been helping other emerging brands to scale their business and we knew they were right for our company."
About GOOD PLANeT Foods
With the mission to be and do good for you and the planet, Bellevue, WA-based GOOD PLANeT Foods offers premium plant-based cheese products. The plant-based cheeses are made from coconut oil, plant starches, and proteins that create a superior taste, texture, and meltability. GOOD PLANeT Foods provides a healthy alternative to dairy cheese without having to compromise on the joyful experience of dairy cheese. Free from the eight primary allergens including dairy, nuts, soy, eggs, and wheat, GOOD PLANeT Foods is gluten-free, certified vegan, kosher, Keto Certified, and Non-GMO Project verified. GOOD PLANeT Foods can be found nationwide at grocery retailers, including Sprouts, Wegmans, Giant, Albertsons/Safeway, Jewel-Osco, and more.
Connect with GOOD PLANeT Foods: Website | Facebook | LinkedIn | Twitter | Instagram | YouTube
About PlantX Life Inc.
As the digital face of the plant-based community, PlantX's platform is a one-stop shop for plant-based products. With its fast-growing category verticals, PlantX offers customers more than 5,000 plant-based products across North America. PlantX also has other brands in the PlantX portfolio including a juice brand, a coffee company, a plant shop, and brick-and-mortar grocery stores. PlantX uses its digital platform to build a community of like-minded consumers and, most importantly, to provide education. PlantX's digital presence eliminates entry barriers for anyone interested in living a plant-based lifestyle and thriving in a longer, healthier, and happier life.
Connect with PlantX: Email | Website | Facebook | LinkedIn | Twitter | Instagram | YouTube | TikTok
For additional information, please contact:
Lorne Rapkin
Chief Executive Officer
(416) 419-1415
Forward-looking Information
This press release contains "forward-looking information" within the meaning of applicable securities laws. All statements contained herein that are not clearly historical in nature may constitute forward-looking information. In some cases, forward-looking information can be identified by words or phrases such as "may," "will," "expect," "likely", "should," "would," "plan," "anticipate," "intend," "potential," "proposed," "estimate," "believe" or the negative of these terms, or other similar words, expressions and grammatical variations thereof, or statements that certain events or conditions "may" or "will" happen, or by discussions of strategy. The forward-looking information contained herein includes, without limitation, statements regarding the availability of Future Farm products, PlantX promotional events and the business and strategic plans of the Company.
By its nature, forward-looking information is subject to inherent risks and uncertainties that may be general or specific and which give rise to the possibility that expectations, forecasts, predictions, projections or conclusions will not prove to be accurate, that assumptions may not be correct, and that objectives, strategic goals and priorities will not be achieved. A variety of factors, including known and unknown risks, many of which are beyond our control, could cause actual results to differ materially from the forward-looking information in this press release including, without limitation: receiving sufficient demand for the Offering; the Company's ability to comply with all applicable governmental regulations including all applicable food safety laws and regulations; impacts to the business and operations of the Company due to the COVID-19 epidemic; the conflict in eastern Europe; having a limited operating history; the ability of the Company to access capital to meet future financing needs; the Company's reliance on management and key personnel; competition; changes in consumer trends; foreign currency fluctuations; and general economic, market or business conditions.
Additional risk factors can also be found in the Company's continuous disclosure documents, which have been filed on SEDAR and can be accessed at www.sedar.com. Readers are cautioned to consider these and other factors, uncertainties and potential events carefully and not to put undue reliance on forward-looking information. The forward-looking information contained herein is made as of the date of this press release and is based on the beliefs, estimates, expectations and opinions of management on the date such forward-looking information is made. The Company undertakes no obligation to update or revise any forward-looking information, whether as a result of new information, estimates or opinions, future events or results or otherwise or to explain any material difference between subsequent actual events and such forward-looking information, except as required by applicable law.