PlantX Partners with Tofutti Brands on E-commerce Fulfillment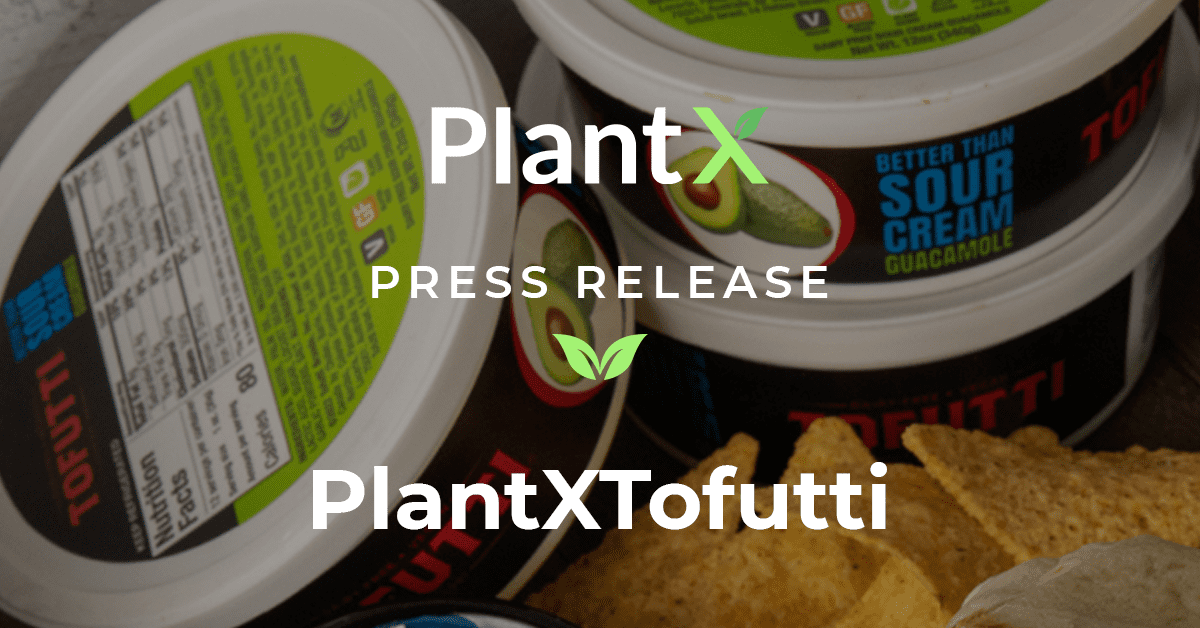 — The O.G. in plant-based now available for direct-to-consumer purchase through exclusive partnership — 
VANCOUVER, British Columbia — May __, 2023 — PlantX Life Inc. (CSE: VEGA) (Frankfurt: WNT1) (OTCQB: PLTXF) ("PlantX" or the "Company"), the digital face of the plant-based community, operating a one-stop shop for plant-based products, today announced that it has added Tofutti Brands, Inc. ("Tofutti") to its growing roster of brands adopting its e-commerce fulfillment solutions through a new integrated partnership.
Through this partnership, Tofutti has integrated a bar across the top of its website labeled "Shop PlantX" which directs customers directly to a branded landing page on Plantx.com: https://plantx.com/collections/tofutti. PlantX is currently selling and fulfilling a broad selection of Tofutti products, including sour cream guacamole, ricotta cheese, soy American cheese and several of its cream cheese varieties, drop shipped directly from the PlantX warehouse. Tofutti products are also available for sale on PlantX's sister website veganessentials.com, the oldest and one of the most established domains in the vegan space, which PlantX acquired in 2022.
Originally created in the kitchen of founder David Mintz's Manhattan buffet to meet the needs of Kosher customers, TOFUTTI® brand dairy-free frozen desserts and vegan cheeses have been delighting customers since 1981. Today, Tofutti provides dairy-free alternatives to customers from all walks of life. All Tofutti products are soy and other vegetable protein-based, plant-based, dairy-free vegan products which contain no cholesterol or lactose.
"We are humbled that the company that started it all in the dairy-free foods has chosen PlantX as its ecommerce partner for its full line of plant-based, dairy-free, vegan products," said PlantX CEO, Lorne Rapkin. "The company was plant-based before plant-based was cool and has amassed a large and very loyal following in its over 40 years in business in which it has built a brand well known throughout the globe. When these customers go to make a purchase online on the Tofutti website, they will now be directed to shop on plantx.com. We're thrilled."
"While our products are readily available in retailers nationwide and internationally, we knew we needed a partner with plant-based expertise to help us reach some of the 16.5 million Americans who label themselves as 'vegan' or 'vegetarian' but who prefer to shop online," said Marketing manager Gerry Pugliese. "Partnering with PlantX makes the launch of Smoked so much easier! PlantX has great reach, so we can promote Smoked hard, right out of the gate, because it's only a click away. Plus, PlantX has a cool, hip vegan vibe. Like us! Tofutti might be the wise old janitor of the dairy-free foods industry, but we've still got plenty of spunk. "
About Tofutti Brands
Founded in 1981 in Manhattan, Tofutti Brands Inc. develops and distributes a complete line of plant-based, dairy-free, vegan products. The company sells dairy-free foods including vegan cheese products, sour cream, dips, and frozen desserts. Tofutti Brands Inc. is a proven innovator in the food industry and available throughout the United States and internationally. Tofutti's product line includes plant-based frozen dessert pints, Tofutti Cuties®, vegan cheese products, which includes Tofutti Better Than Sour Cream®, Better Than Cream Cheese®, American cheese slices, Dippity Doo Dah dips, and Better Than Ricotta Cheese®; products that are Kosher-Parve, Halal, and vegan. 
Connect with Tofutti Brands: Website | Facebook | LinkedIn | Instagram 
About PlantX Life
As the digital face of the plant-based community, PlantX's platform is a one-stop shop for plant-based products. With its fast-growing category verticals, PlantX offers customers across North America more than 5,000 plant-based products. PlantX also has other brands in the PlantX portfolio including a juice brand, a coffee company, a plant shop, and brick-and-mortar grocery stores. PlantX uses its digital platform to build a community of like-minded consumers and, most importantly, to provide education. PlantX's digital presence works to eliminate the barriers to entry for anyone interested in living a plant-based lifestyle and thriving in a longer, healthier, and happier life.
Connect with PlantX: Email | Website | Facebook | LinkedIn | Twitter | Instagram | YouTube | TikTok
For additional information, please contact:
Lorne Rapkin
Chief Executive Officer
(416) 419-1415
Forward-looking Information
This press release contains "forward-looking information" within the meaning of applicable securities laws. All statements contained herein that are not clearly historical in nature may constitute forward-looking information. In some cases, forward-looking information can be identified by words or phrases such as "may," "will," "expect," "likely", "should," "would," "plan," "anticipate," "intend," "potential," "proposed," "estimate," "believe" or the negative of these terms, or other similar words, expressions and grammatical variations thereof, or statements that certain events or conditions "may" or "will" happen, or by discussions of strategy. The forward-looking information contained herein includes, without limitation, statements regarding the availability of Future Farm products, PlantX promotional events and the business and strategic plans of the Company.
By its nature, forward-looking information is subject to inherent risks and uncertainties that may be general or specific and which give rise to the possibility that expectations, forecasts, predictions, projections or conclusions will not prove to be accurate, that assumptions may not be correct, and that objectives, strategic goals and priorities will not be achieved. A variety of factors, including known and unknown risks, many of which are beyond our control, could cause actual results to differ materially from the forward-looking information in this press release including, without limitation: receiving sufficient demand for the Offering; the Company's ability to comply with all applicable governmental regulations including all applicable food safety laws and regulations; impacts to the business and operations of the Company due to the COVID-19 epidemic; the conflict in eastern Europe; having a limited operating history; the ability of the Company to access capital to meet future financing needs; the Company's reliance on management and key personnel; competition; changes in consumer trends; foreign currency fluctuations; and general economic, market or business conditions.
Additional risk factors can also be found in the Company's continuous disclosure documents, which have been filed on SEDAR and can be accessed at www.sedar.com. Readers are cautioned to consider these and other factors, uncertainties and potential events carefully and not to put undue reliance on forward-looking information. The forward-looking information contained herein is made as of the date of this press release and is based on the beliefs, estimates, expectations and opinions of management on the date such forward-looking information is made. The Company undertakes no obligation to update or revise any forward-looking information, whether as a result of new information, estimates or opinions, future events or results or otherwise or to explain any material difference between subsequent actual events and such forward-looking information, except as required by applicable law.